Testimonials
Ziggy
Shiva
Asia F2 Bengal
Maisie
Roman & Pixie
Pray & Nia
Minerva by Linda
Orion by Emma
Gayzette Diva F2 Bengal
Adagio For Strings



---
Ziggy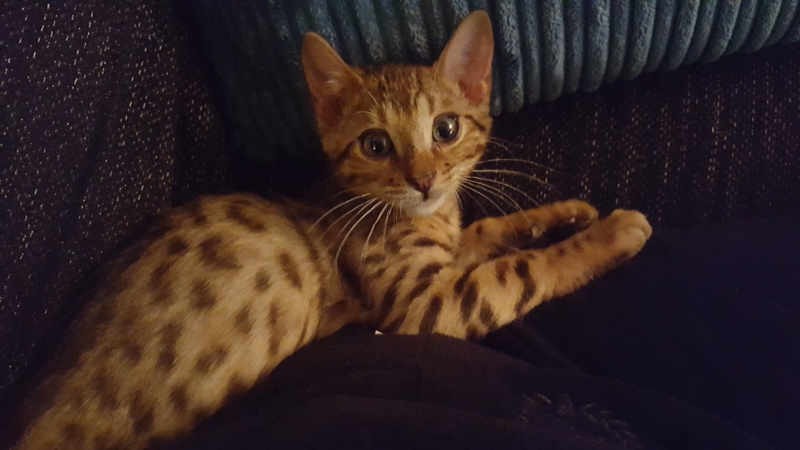 Hi Pauline,
Hope you are well. Here is some text and some photos that you could put on your testimonial Web page if you need it.
"I bought Ziggy from Pauline and Frank in Feb 2016. I was a first time bengal owner so I had lots of questions both before and after collecting him, and pauline was only too happy to assist. I was also given a really helpful welcome pack when I collected him. I would thoroughly recommend them.
Ziggy is a fantastic cat. He is very affectionate and has all of the bengal traits that people want.
The first pic of him is at around 5 months, the second is around 10 months (he truly is ziggy stardust) and the 3rd is aged 14 months. (They have attached in reverse order)."
Hope this is helpful.
Kerry
---
Shiva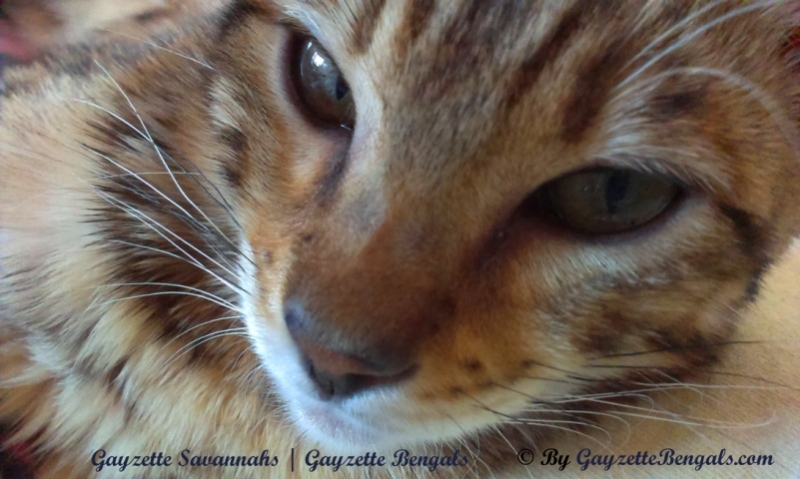 Shiva settled in after a few hours of being at home, never shy or timid! Such a confident kitty! Never scratches or bites! And amazingly trainable! Take him for walks on the hill behind the house! Such an amazing wee cat, whos always leaving you impressed!!
Thank you again Pauline!
---
Asia F2 Bengal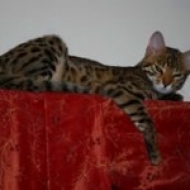 Please find below pictures of our beautiful cat Asia. She was purchased from Pauline and Frank at Gayzette Bengals last year. She is an F2 Bengal. I researched the Bengal cat for quite some time; firstly I purchased a male SBT from a local breeder. Then once we had Trevor we decided we wanted an early generation Bengal; after contacting Pauline and speaking firstly on a number of occasions on the telephone; Pauline contacted me to say she had a kitten for us. We were so excited we flew up to their home and were made very welcome. Pauline and Frank are exceptionally caring breeders; they are extremely knowledgeable and nothing is too much trouble. I would recommend their cats to everyone. We hired a car and drove back to Staffordshire with our cat; we also brought back her brother Gio for Stuart and April and delivered him when we dropped off our hire car. It was a very long day but it was a pleasure to meet Pauline and Frank. Asia is one of the most beautiful cats I have ever seen; she gets more beautiful as she gets older; she has a fantastic temperament which is down to Pauline and Franks care. I now want an F1 and will only consider Pauline and Frank. I have continued to stay in touch with them and Pauline is always on the end of the phone if we need her. The pictures of our cat speak for themselves; she is wow!!! We just want to say thanks Pauline and Frank for giving us the opportunity to care for Asia.
Sharon and Jon Winter (proud owners of Asia F2 Bengal).
---
Maisie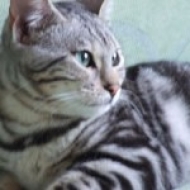 My kittens name is Maisie and she is now 8 months old. She loves to play, especially with her favourite giraffe toy or a ping pong ball and she loves to help with the dishes! When it is nap time she likes nothing more than to curl up next to Mickey Mouse.
Mandy Watkins.
---
Roman & Pixie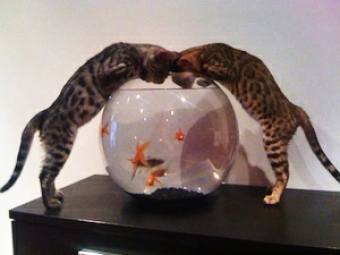 Here's a picture of my gorgeous silver gayzette Bengal kitten roman, with my other Bengal kitten pixie, both infatuated with the fishbowl. They stare at the fish for hours, and prefer drinking the water from the fishbowl than from their own water dish. They are both super adorable and little stunners.
---
Pray & Nia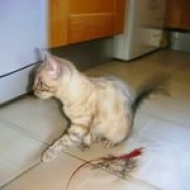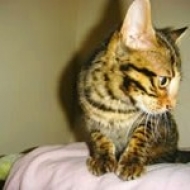 Pray and Nia arrived after a 10 hour trip and it didnt phase them at all. Pray (f2) walked out as if she had been here her whole lifetime, and after a few days Nia showed her true spots! Pray has the loudest purr, look and nature to die for and Nia is silk to the touch and is so friendly. We couldnt of asked for 2 amazing kittens but thats what they both are amazing. I would say Pray is like a puppy more than a kitten and my young daughters spend hours and hours cuddling playing and doing what kids do best! We would like to say a huge thanks to Pauline and Frank for these girls and for all the hours Pauline spent over the phone with me and helping us. We cant wait to see what the future holds with these girls but most of all we want to say a huge THANKS. From all of us at Junglestar.
Anna, Simon Layla and Lily.
---
Minerva by Linda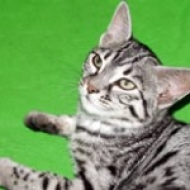 Gayzette Minerva (Silver Spotted F2) Owner – Linda Dunion (Supernova Bengals
I can remember the first trip we made to meet Pauline and Frank and all their wonderful Bengals. I was absolutely overwhelmed by all their stunning cats but none more so than the early generation F1s and F2s. Having bought a number of super breeding queens from Gayzette we were absolutely delighted to receive the call from Pauline to advise that they had produced a stunning silver F2 girl from Gayzette Whisper (out of Apollo of Gayzette). Suffice to say we were estatic and made arrangements very quickly to ensure this girl came home with us. I cannot put into words how I feel about Minerva. Every time I look at her she takes my breath away. Not only is she absolutely a very rare and stunning girl but the love I receive from this little girl overwhelms me. She is an absolute treasure and we are so delighted to have her with us. I cannot express how grateful I am to Pauline and Frank for allowing me the great privilege of having this beautiful wonderful girl. Minerva will be an absolute asset to our silver breeding program in 2008.
---
Orion by Emma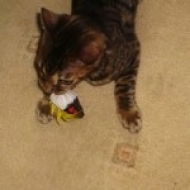 We got Orion when he was 14 weeks old he is an F2 bengal which means his grandad is an asian leopard cat we have always wanted an F3 or above and were very fortunate too come across Pauline and Frank from Gayzette Bengals.
We have 3 other sbt Bengals and just love there temperament and character we were not sure what too expect with a higher generation Bengal but we were very surprised when we brought him home after 30 minutes in the same room as us he was purring rubbing against us and playing and from that moment he is our little shadow that follows us around.
I wanted too write this too let people know that the high generation Bengals make great pets as long as you spend time with them, but this is the case with any animal, and in our experience we have found that Orion is friendlier than my SBT Bengals and has fitted in too our family including our children so well we cannot imagine life without him.
---
Gayzette Diva F2 Bengal
Owning an F2 Bengal cat feels like a privilege, she is such a special little girl. It's like living with a scaled down leopard – from the way she walks to the way she sits and observes the world around her. She is very loving and will follow me around the house like a dog, moving from room to room happy just to be in my company not demanding attention. I have never seen a cat eat like she does, we thought our F4 Bengal was a pig, Diva is on a whole other level, eating every meal like it's her last. She is great fun to have a conversation with, and will answer back with her very unique miaow to questions posed to her! A cat that will play and play until she is exhausted too. A unique experience and one which you can only understand by owning one of these special cats yourself.
---
Adagio For Strings
Gayzette "Adagio for Strings" aka 'Gio', F2 Brown Rosetted Bengal Owners – Stuart and April As most Bengal owners will tell you once you have your first this soon becomes 2 and so on. Bengals have many qualities that enrich your life on a daily basis, from making you laugh at their antics to the hunt to find their new secret hiding place. We already had two SBT Bengals and the urge for another was upon us. While searching on the internet we came across Gayzette's home page, and spent the rest of the evening reading the many articles enclosed in this wonderful website. Since owning our first Bengal, I have been fascinated by the early generation cats and information on these rare cats is not easy to come by. The decision was made, we would like to investigate the possibility of owning one of these wonderful cats. We made a call to Pauline and after an enlightening conversation we were placed on the waiting list for a F2 boy. In due course we received an e-mail from Pauline, there was a F2 boy available. We snapped him up.
Living with Gio
After Gio's trip from Scotland to our home in B'ham, he was introduced to his settling in room. He was straight out of his travelling enclosure and greeted April and I with a head rub and a loud purr that defied his kitten frame. This treatment is not only reserved for us but for the many visitors that a new kitten attracts. Gio is confident, loving, loyal, gentle,playful,mischievous as any Bengal is, but different. I have read other owners say this also, and I wondered if I could describe this "different quality", but alas I cannot. It can only be experienced from owning an early generation Bengal. Gio loves company at all times, be it April and I, our SBT Bengals or friends that visit. He has no fear of any household noises and enjoys listening to music and playing with his favourite toy a black fluffy spider. Gio likes to fetch and play tug with a feather waggler, which he always wins. Pauline and Frank do a wonderful job raising these lovely cats, for us lucky owners to reap the rewards of their superb upbringing.
Thank you Pauline and Frank